TJT-385 Polypropylene Thermal Transfer Tag 1.25" X .50"
Regular price
Sale price
$93.50
Unit price
per
Sale
Sold out
Film Type:
738 Gloss PolyProp
Print Area (Width):
1.25"
Print Area (Height):
0.5"
Ft Per 1000 Labels:
114.58
Ribbon Length Per 1000:
114.58'
View full details
Effortlessly elevate your merchandise presentation with the TJT-385 Polypropylene Thermal Transfer Tag set. This duo is designed for seamlessly tagging your valuable items, ensuring clarity and professionalism in your display.
Tailored for jewelry, optical products, and beyond, these tags are ideal for ornaments, crafts, fashion watches, and costume jewelry items. The 1.25" x 0.50" dimensions strike the perfect balance, providing ample space for essential information without overwhelming your merchandise.
Crafted from durable polypropylene, these tags boast lasting quality, ensuring they endure handling and storage. The special film surface is primed for optimal results whether you choose to print using a thermal transfer printer or prefer the personal touch of a permanent ink pen.
For pristine print quality, we recommend pairing these tags with our compatible thermal transfer ribbons. This winning combination guarantees clear and professional labeling, leaving a lasting impression on your customers.
Whether you're in the jewelry business, dealing with optical products, or require an efficient tagging solution for your merchandise, the TJT-385 tag set is your versatile companion. Enhance your product presentation, streamline organization, and convey essential information effortlessly with this comprehensive tag solution.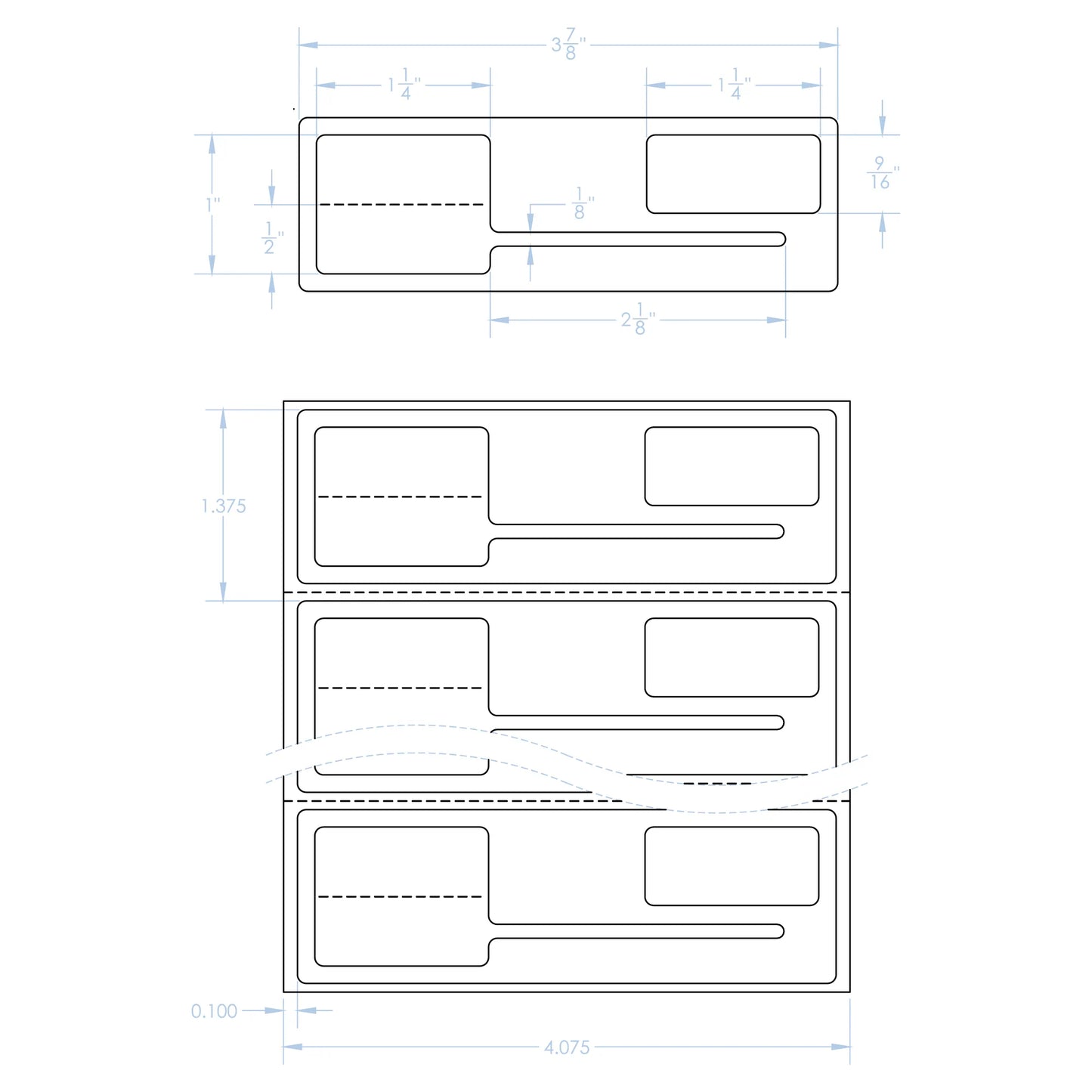 What is Film Type?
738 Gloss PolyProp
A topcoated, gloss white, synthetic film with high performance adhesive.
What is Core Size?
1" inner core diameter comes with an 5" outer roll diameter for desktop printers; Example: (ZT1300, TLP3844, TLP2844, E4203, E4204, Ci, Cxi)
3" inner core diameter comes with an 8" outer roll diameter for high capacity printers; Example: (ZT1300, 105SE, 105SL, Z4M, Z6M, I4208, CL408, CL412)